8 Ways to Use Reclaimed Wood in Your Fort Myers Home
This might be news to you, but reclaimed wood is really catching on with Fort Myers people, who by all accounts have a passion for its natural look and what it does for their home décor. It's emerged as a desirable way of repurposing weathered wood and, at the same time expressing your own distinctive style. Reclaimed wood products draw one's gaze whether on a wall, your cabinets, or – yes! – your windows. Want some tips on using reclaimed wood with flair? We've selected 8 incredible ideas for you – all applied to wonderful effect in Fort Myers homes.
1.Reclaimed Wood and Windows
For the first time ever, you can easily own reclaimed wood as a window treatment. Sunburst Shutters now offers a plantation shutter crafted from the finest reclaimed wood. Actually, Sunburst is the lone company providing reclaimed wood shutters in the Fort Myers area. We searched high and low for the reclaimed wood you like and used it to create a louvered shutter that's as functional as it is beautiful.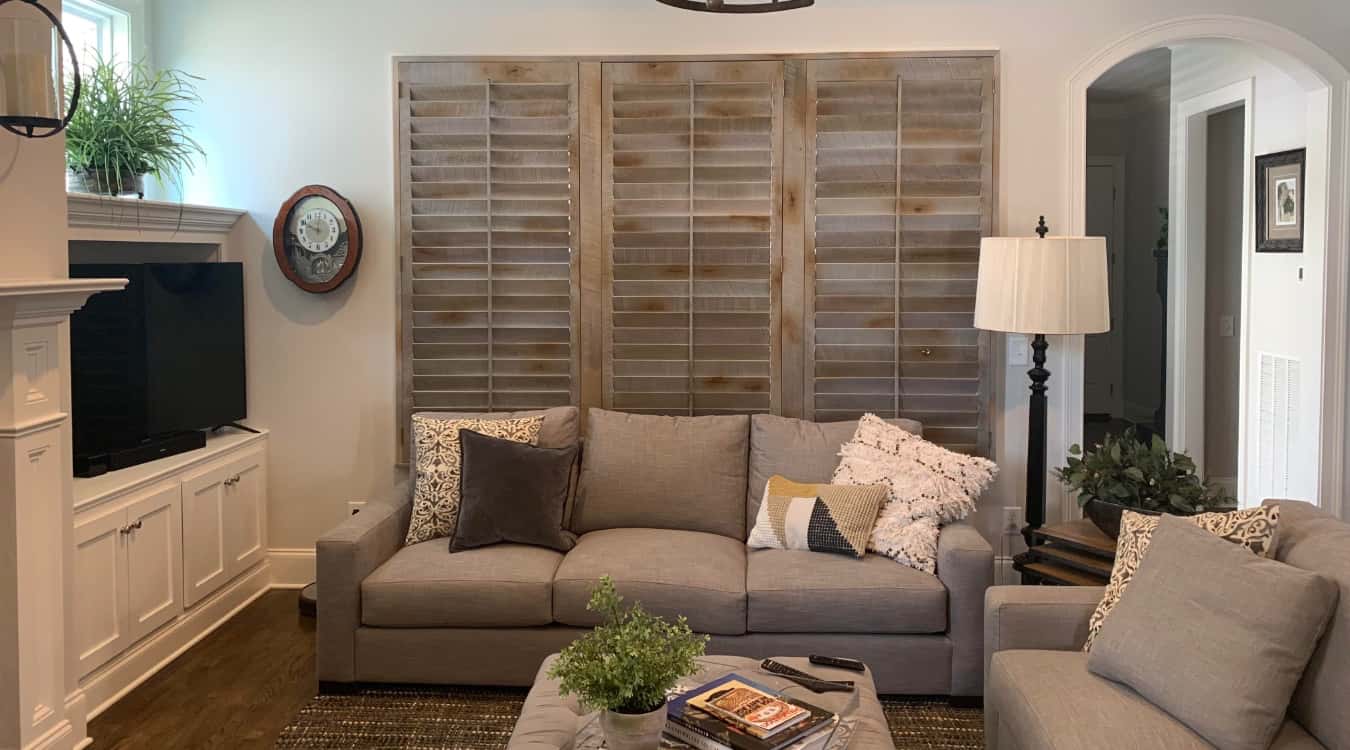 Reclaimed wood can make for a most unique window treatment. You've got a head start, for sure, when your reclaimed wood shutters are artistic accomplishments in their own right. And Sunburst sees to it they are. You'll be thrilled by their smooth, simple operation as well as their appearance. Tilt the louvers open to let in more light. And tilt them closed to better reveal the weathered look of reclaimed wood on your window. Don't just take our word for it, though. There's so much more to learn about reclaimed wood for windows in Fort Myers. Take a look!
2. Use Reclaimed Wood on Walls
If it's the casual, rustic look of the outdoors you want in your home, reclaimed wood can bring it in with remarkable effectiveness. Reclaimed wood paneling turns your wall into a quiet but compelling showpiece and imparts a comforting atmosphere to the room. It doesn't matter if you have a fireplace, artwork, TV, or bookcase to accentuate, a reclaimed wood wall will look fantastic behind it and provide just the effect you seek.
3. Redo Your Floors in Reclaimed Wood
Been thinking about redoing a floor in your house? Lots of wood flooring can lend warmth to a room, but flooring of reclaimed wood has an unparalleled beauty borne of the time – typically decades – the wood has been outside. Regardless of whether you love the outdoors or simply love the look and feel of weathered wood, you'll be blown over by what a reclaimed wood floor can do to beautify your home.
4. Dress Up Your Cabinets with Reclaimed Wood
Because of the the easier access you have to reclaimed wood, you couldn't find a more opportune time to re-do your kitchen cabinets. It's the natural way to improve the warmth and congeniality of your kitchen. Every panel of reclaimed wood evokes an amazing tale – of many years hidden away in an old building, for instance, or in the crumbling structure of a barn or fence. And a piece of that story will endure in your reclaimed wood cabinets, coming to mind at such times when you lay eyes on them.
5. Reclaimed Wood for Tables
Tabletops partially or completely made of reclaimed wood can add a contemporary, totally fresh look to your dining room or home office. Match the subtle, natural hues of reclaimed wood with your décor scheme for a cohesive look that satisfies your creative vision – while it leaves your guests in stunned admiration!
6. Using Reclaimed Wood for Bookcases
Aside from what other things we might hold dear about them, books make fantastic decorative pieces. Leather, vinyl, buckram, or paperbound books and those with colorful dust jackets look great on a coffee or end table, on a bookshelf, or in a large bookcase. Their pleasant variety is both distinguished and unified in bookcases of real wood, too. And bookcases of reclaimed wood, due to their natural colors, knots, holes, scratches, and other markings, become a decidedly distinctive, one-of-a-kind furnishing.
7. Reclaimed Wood as a Frame
The rustic, natural look of reclaimed wood is perfectly suited for picture frames. It actually can enhance your favorite artwork and most cherished photos in a decidedly distinctive manner. Note also that frames of reclaimed wood can be designed in a multitude of styles, thus they'll match almost any décor scheme.
8. Redo Your Headboard in Reclaimed Wood
There's little that can revive the ambiance of a bedroom like a ingeniously designed and constructed headboard. These days, when renovating, people are just as inclined to fix a headboard to the wall behind their bed as they are to attach one directly to the bed itself. Either way, a headboard consisting of reclaimed wood planking can be especially gorgeous. It's natural hues and weathered features lend themselves to an expansive range of styles, from antique to modern. With reclaimed wood, you'll discover there aren't any limits on your imagination to get in the way of you designing the headboard that dreams are made of!
Inspiration Comes Easy with Reclaimed Wood
It's our hope that we've inspired you with these 8 ideas for getting the most out of reclaimed wood. But we have a great many more ideas – ideas that work beautifully with the reclaimed wood shutters we alone provide in Fort Myers. Our team will gladly show you samples of our shutters, answer your questions, and provide you with lots of other great design ideas. Give us a call at 239-208-6577 to schedule your free in-home design consultation at your convenience!