Sidelight Window Treatments In Fort Myers
Sidelights are the long, slender windows on the sides of your front door. They let light into your entrance, give you a view of your front porch, and provide an attractive decorative embellishment for your house. But when uncovered, they can also give an unwanted view into your interior. Fortunately, Sunburst offers the perfect solution with our custom-made sidelight window shutters in Fort Myers.
Sidelight Window Shutters In Fort Myers Are The Ideal Option
No option meets your needs better for your entryway than our sidelight window shutters. They'll provide the privacy you need with the additional perks of superior light management, durability, and distinctive appeal. Whether you choose our best-selling Polywood or stained real wood, an interior shutter perfectly blends in with all aspects of your front entry door.
Front Door Sidelight Window Shutters Give You Better Privacy
If a stranger waits at on your front step, you don't want them looking into your home through a translucent curtain or bare window. When you install entry door sidelight window shutters, you are able tofully block the view right into your home's interior, maintaining your privacy. Of course, when you need to peek out, an easy adjustment of the louvers will let you see the outdoors.
Polywood® Shutters Provide Extraordinary Energy Savings
It's easy to see that an open door can cause energy loss, but you might not realize how much heat can escape through windows. Sidelight window shutters will help stop heat loss in its tracks. Our Polywood® plantation shutters are so good at trapping your inside air in your home that they even qualify for an energy tax credit as well!
Plantation Shutters For Sidelight Windows Are Better For Families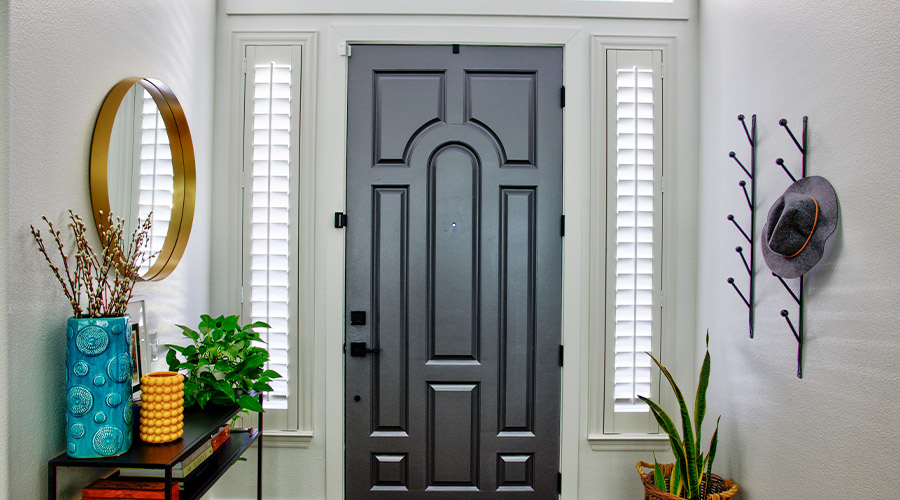 When a visitor comes up the driveway, your kids and pets are likely sprinting to your front door to look out the sidelights to check who has come. If you have flimsy blinds, they'll likely get knocked around and even bent. Other treatments can be moved to the side, paving the way for small handprints or pawprints on the pane. If you have plantation shutters for sidelight windows in Fort Myers, you won't have these problems. Rather, you'll have a sturdy, durable solution that holds up well to rowdy young ones. And they still give a look out-of-doors whenever you adjust the louvers.
Sidelight Window Shutters In Fort Myers Fit Windows Of Any Shape Or Size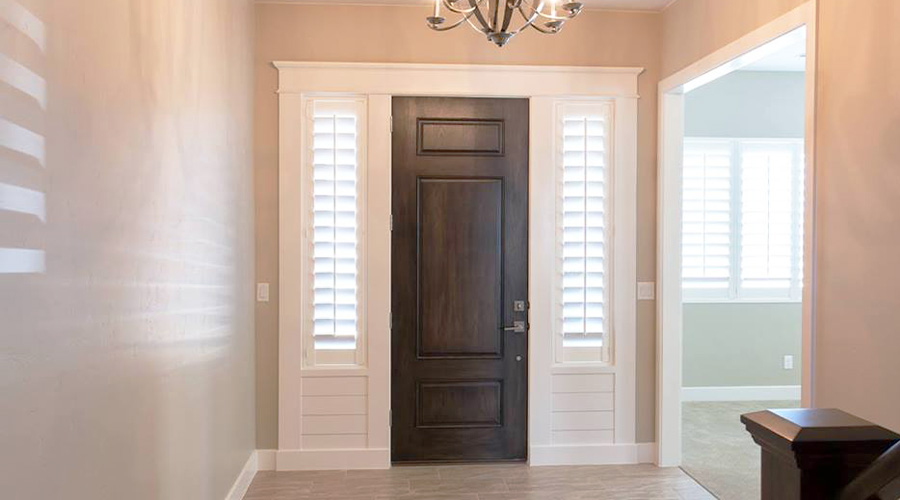 Shopping for drapes, shades, or blinds that fit properly over sidelight windows is a challenge. Sidelights typically don't come in a standard size and may be slim or a similar width as the door. A custom solution is your most workable choice, and that's precisely what you'll enjoy with sidelight window shutters in Fort Myers from Sunburst. Our versatile solutions are always manufactured to fit the exact measurements of any window.
Enjoy A Fashionable, Coordinated Look For Your Doorway
When you match your sidelights and door, your house will have the advantage of a consistent and beautiful entryway. Luckily, Sunburst's sidelight window plantation shutters are available in various paint and stain hues to perfectly harmonize with your particular interior.
You'll Always Have Space For Sidelight Window Shutters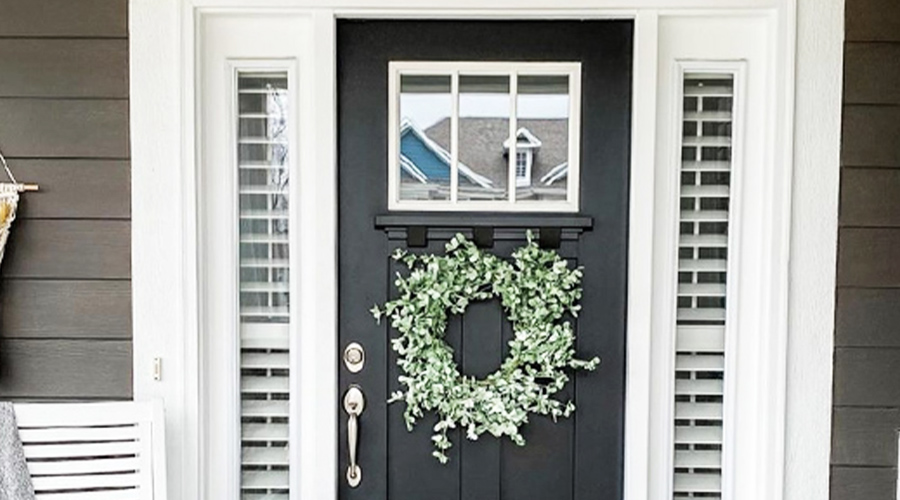 In some entryways, you might have little room around sidelights. If that is the case in your home, using a hanging treatment might not fit. Luckily, our sidelight window shutters can be installed over or within the frame, so they remain operational and appear gorgeous regardless of the surrounding space.
Our Sidelight Window Shutters Stay Secure No Matter What
One of the great things about sidelight window shutters is that you never have to wonder about them shifting, swaying, or bumping against the window. They consistently stay fixed in place. On the other hand, drapes, shades, and blinds can be sucked into the vacuum effect that occurs when you come through the door. They will frequently swing, rattle, and may even get trapped in the door.
Frequently Asked Questions About Sidelight Window Shutters In Fort Myers
Q: What types of shutters can go on sidelights?
A: Our Ovation® hardwood, Polywood® shutters reclaimed wood shutters, and Studio Shutters are all excellent for sidelights.
Q: Can shutters be installed on the glass cutout in a door?
A: Yes! If there's a window cutout within your entry door, we can include a custom shutter frame around it.
Q: Do sidelight window shutters have to use a tilt rod?
A: Not always. We have interior shutters with a "hidden" tilt rod, so the only parts seen are those traditional louvers.
Q: Can you customize plantation shutters for sidelight windows that match the color of my door?
A: Yes! We can customize shutters in various paint colors and wood stains. We can figure out a solution for virtually any door.
Learn More About Sidelight Window Plantation Shutters In Fort Myers
You can find out Sunburst's sidelight window plantation shutters right from your Fort Myers home. Schedule a cost-free consultation, and a knowledgeable team member will come to you! You'll get the chance to see how different window treatments look before making [your final choice. Dial 239-208-6577 today or complete our simple form to get started.