Different Faux Wood Plantation Shutters In Fort Myers
While you can find plenty of faux wood plantation shutters on the market in Fort Myers, they are not all the same. While some faux wood shutters will last forever without warping, cracking, or yellowing, other faux wood treatments will start to degrade in just a few years.
It can be difficult to understand the pros and cons of the different faux wood plantation shutters Fort Myers. But after you learn about the different types of faux wood, it will be much easier to figure out which interior shutter will stand the test of time.
The following list examines the different kinds of faux wood shutters in Fort Myers and orders them from the least ideal to the most durable and stylish:
Vinyl Shutters:
Some window treatments that use vinyl would like you to think that they are made from faux wood. But don't fall for it, vinyl is not faux wood. Vinyl's plastic look and slick coating is tough to match to a decor style, unlike some other faux wood or real wood shutters. They may be one of the cheapest plantation shutter products on the market, but they also may be the flimsiest of the non-wood shutters.
Vinyl can also be easily affected by heat. It's not uncommon to see vinyl plantation shutters melt or yellow due to the sun's rays. Since these covering warp, discolor, and have poor insular traits, vinyl shutters won't provide much energy-efficiency to your home -- especially if you have hollow louvers.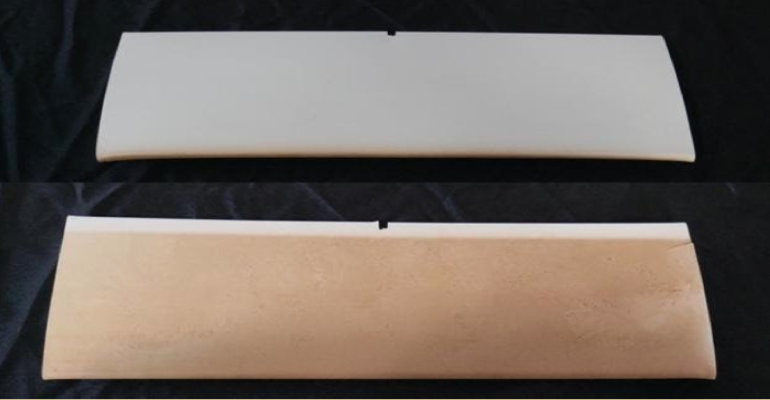 Benefits:

Least expensive of the non-wood shutters.

Drawbacks:

Looks like plastic; flimsy construction; hollow louvers; low energy efficiency; will warp, splinter or fade.
Synthetic Wrapped Product:
A step up from vinyl shutters are synthetic plantation shutters. These treatments are made of pressed wood, wood chip components, or glued MDF, and then bound with a synthetic, vinyl, or plastic coating. The plantation shutters have more weight and can look much more like a real wood plantation shutter than their less durable counterparts.
However, synthetic wrapped shutters have many drawbacks. The pressed grain under the wrapping can be extremely permeable, leaving the shutter vulnerable to humidity and moisture. It's a common occurance to see a warped or cracked louver or learn that the synthetic wrapping has chipped or peeled away. Also, wrapped shutters aren't custom-fitted for odd shaped windows like arches or octagons.
Benefits:

More substantial than vinyl shutters; may resemble real wood.

Drawbacks:

Not preferable for high humidity or high moisture areas. Will absorb moisture and humidity. Aren't moisture resistant; wrapping can chip away; warps or splits easily; no specialty shapes.
Solid Extruded Faux Wood Shutters:
Plantation shutters made from solid extruded synthetic materials give you more durability than any of the other non-wood plantation shutters. Because the synthetic material saturate the window treatment, they create more substantial, solid louvers that are more resistant warping. You will also see that these shutters are more durable and will act much more like real wood shutters. Solid extruded faux wood shutters are also able to be custom-made to fit every window shape and size -- even ovals.
But a solid extruded plantation shutter is only as durable as its faux wood formula. Some recipes create a fragile product, which can be cracked or chipped during installation. If the faux wood doesn't have a UV inhibitor, then your plantation shutter will fade and yellow from the sun. Some companies paint their shutters, which also leads to chipping and yellowing over time.
Benefits:

More durable product that is most comparable to a basswood plantation shutter.

Drawbacks:

Quality depends on the mixture of the faux wood composite.
Polywood® Shutters Are The Most Popular Composite Faux Wood Shutters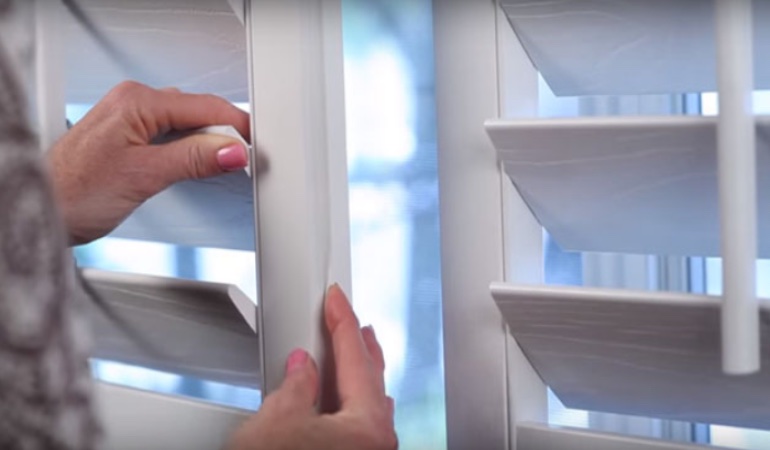 Polywood plantation shutters are made from an very durable extruded faux wood formula that will never yellow, chip, or splinter. Its proprietary formula makes it seem like real wood, but with a material that resists moisture. We add a UV inhibitor with the faux wood mixture so that the entire shutter will always stay looking nice for year after year. They are even a snap to clean -- you only need a duster for routine work, and a wet cloth for deeper cleaning.
Our Polywood shutters are also designed to be one the most energy-efficient window treatments available. In fact, Polywood shutters are made to be 70% more energy-efficient than regular wood, and 1600% more efficient than aluminum blinds. And we also throw in a lifetime warranty. Those are benefits no other shutter company offers.
Benefits:

Lifetime warranty against splintering, fading, and warping; most energy-efficient window covering around; looks nice in any style and decor.

Drawbacks:

More expensive than flimsier vinyl interior shutters -- but worth it!
Contact Sunburst Shutters Fort Myers Today To Get Long-Lasting, Elegant Polywood Plantation Shutters
When looking at the pros and cons of the numerous faux wood plantation shutters, you can definately tell that Polywood is the best. Our Sunburst Shutters Fort Myers experts are ready to show you the perks of our Polywood plantation shutters, and how they can help any room in your house. To schedule a free in-home consultation, call 239-208-6577 or complete the form below today!