Five Ways To Create The Ideal Media Room In Fort Myers
The latest home entertainment equipment makes it easy to enjoy movies, gaming, and television as you kick back in your own media room. This is the reason why families in Fort Myers are increasingly creating home media rooms. You might be wondering: What is required to produce an incredible home media room? From the best window treatments to soundproofing, here are five tips for creating a media room in Fort Myers that all family members will enjoy.
#1 Manage Exterior Light With Plantation Shutters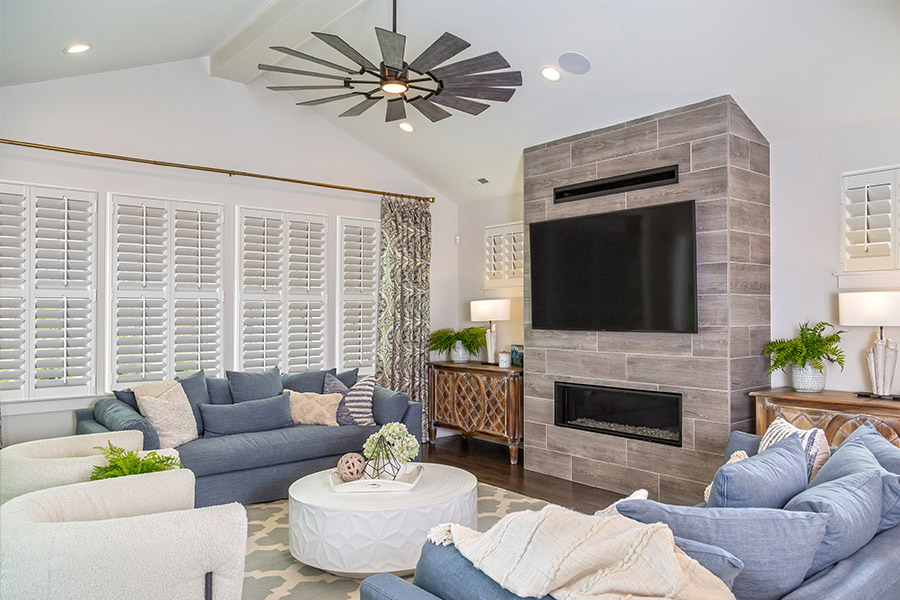 Not much can mess up a movie like glare on your screen. Light dimmers help, but what about sunlight? Install
interior shutters as window treatments
in your media room in Fort Myers for the best light control. Louvered shutters feature a solid outer frame that surrounds your window's frame to block outside light. These sturdy installations also incorporate panels on hinges with moveable slats that slide together closely to achieve almost total darkness. You may also tilt the louvers to a different angle to move sunlight away from TVs or your face without having your space resemble a dark cave.
When you select Polywood® shutters, you'll get better window insulation as well. These faux-wood shutters stop the sun's rays and drafts to help your media room stay at a comfortable temperature level. They may prohibit as much as 30 degrees of heat transference, reducing your utility costs.
#2 Improve Your Media Room's Sound Quality With A Few Minor Refurbishments
Once you conquer the lighting issue in your Fort Myers media room, tackle the audio experience. Drywall is adequate for media rooms walls, but basement concrete deteriorates the quality of sound. The simplest solution to control echoes in your basement media room is by putting up sound absorbing panels. In the event you have to soundproof your media room, look for easy-to-install sound dampening or deadening solutions. You can then proceed with window treatments, like shutters, to control exterior noise.
#3 Choose The Proper Electronics
The proper electronics will give you excellent audio too. First, select your surround sound configuration. Many people prefer devices with Wi-Fi capability since there's no need to trouble yourself with running wires.
You also need an amazing television. Popular LED screens offer excellent brightness, but 4k units often have better contrast and wider viewing angles. You might also choose a projector and screen for that larger-than-life display in your media room. Whichever TV you pick, mount it higher up your wall for the best viewing angle.
#4 Pick Out Cozy Furniture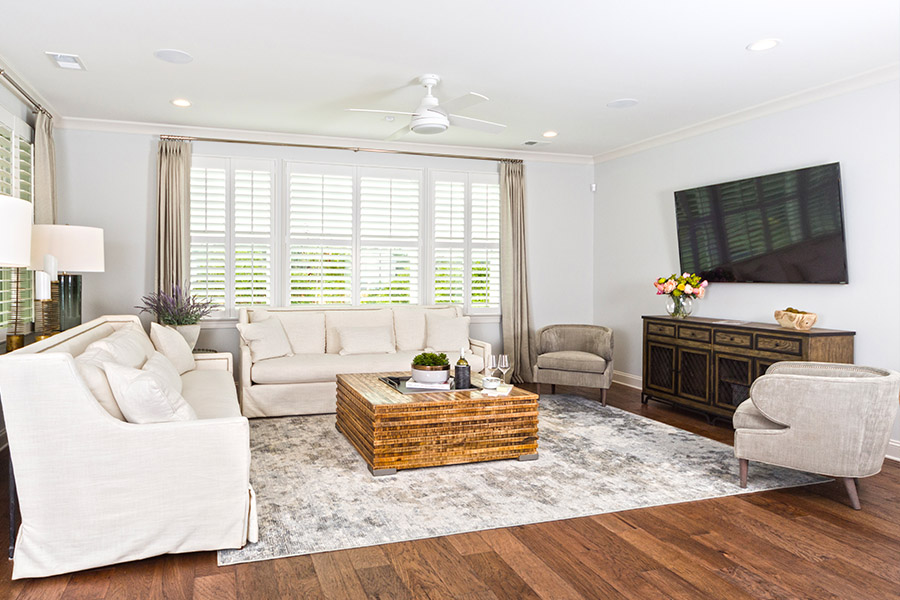 You won't be able to enjoy your favorite show without a comfortable place to sit. If you're going for a theater-style experience, look for theater chairs with reclining functionality and incorporated drink holders. If you plan on gaming, buy a few chairs suitable for long hours at play. A spacious sectional is a smart choice as well. While you're at it, add several blankets and maybe a pillow or two for extra cozy binge watching nights.
#5 Set The Tone With A Fun Theme
You can decorate in any way you desire when creating a media room in Fort Myers. Do you love a specific movie franchise? Would you like to create the sense that you're inside an actual theater? Oversized movie posters, a vintage popcorn machine, and vibrant colors can underscore the purpose of your media room.
If you're looking for a more toned down appearance, focus on your choice of color combination. Warm colors with real wood trim and coordinating Ovation® shutters will have your media room feeling comfy. Or make it feel light and airy with more neutral colors and Polywood shutters.
Consult With Sunburst About Window Treatments For Your Media Room In Fort Myers
The specialists at Sunburst Shutters Fort Myers can help you pick the best window treatments for your media room. At your complimentary in-home meeting, we're happy to show you how different solutions look in your room before you make your decision. Schedule yours today by dialing 239-208-6577 or by filling out the form on this page.