Fort Myers Bay Windows Deserve Spectacular Window Treatments
Unique window types are oftentimes the most visually appealing hallmarks of houses in Fort Myers - and one of the most eye-catching types of those unique windows are bay windows. From either inside the home or outside, bay windows offer a feeling of comfort and fashion all at the same time - if they're partnered with a great window covering.
But how do you decide which window treatment to pick? Just as with other unique windows, bay windows have their own considerations to think about. Sunburst Shutters Fort Myers will guide you through the checklist for bay window treatments, as well as offer our suggestions for the top picks for your Fort Myers bay windows.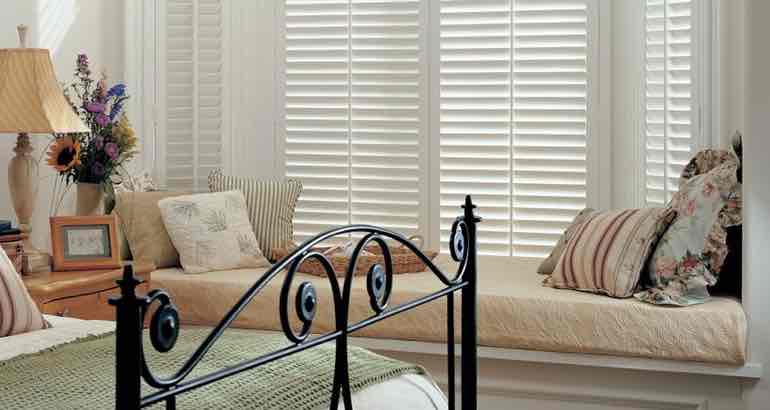 What To Look For In Bay Window Treatments
Enhance your bay window - A poorly-chosen, boring window covering can mask the style of a bay window. Choose instead a treatment that enhances your bay window's unique shape.

Control over temperature and light levels - Bay windows can let in a good amount of light and heat from outside. You want a window treatment that makes your space cozy and allows you to control the climate.

Visibility - Just as a window treatment needs to enhance a bay window's geometry, it also needs to control how clearly you're able to see out your window, and how much people outside can see inside.
What Not To Choose For Bay Window Treatments
Metal blinds - Blinds usually hurt the glamour of uniquely-shaped windows, which can make them seem rather generic or cheap. They also underperform in controlling for light as well as temperature.

Drapes - Similar to blinds, drapes hurt the charm of bay windows by obscure their unique shape, which is one of their central features. Light control can also be "all or nothing" with drapes.

Nothing - Some homeowners believe they should keep their bay window uncovered. The single reason for not installing a window treatment is an increase in visibility, but doing so limits your options for control of light and energy, and can let people passing by get an undeterred view inside your house at all hours.
Recommendations For Fort Myers Bay Windows
Cellular Shades for Bay Windows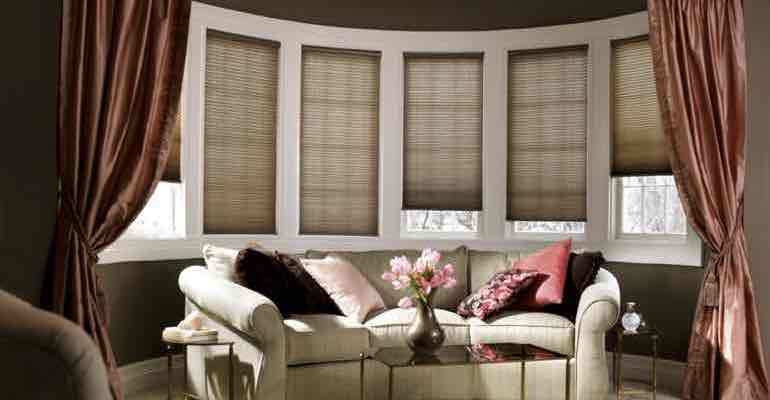 Fashionable, wallet-friendly, and easy to operate, cellular shades are perfectly suited to bay windows. The reason why they work so well on bay windows is the amount of freedom cellular shades offer you. These shades can be purchased in a range of cell sizes, all the way from 7/16" to 9/16" to 3/4" and feature a top-down/bottom-up system that lets you lower the shade from the top or raise it from the bottom, letting you get your perfect view while maintaining light control.
Our cellular shades can be purchased in a range of opacities, from sheer to completely opaque, so a lack of privacy is never a concern. Also, unlike different kinds of shades, cellular shades never bunch up at the top or near the side of the window when drawn, because they fold in so effectively. That makes it so you're able to maintain the elegant look of your bay windows when the shades aren't being used.
Plantation Shutters For Bay Windows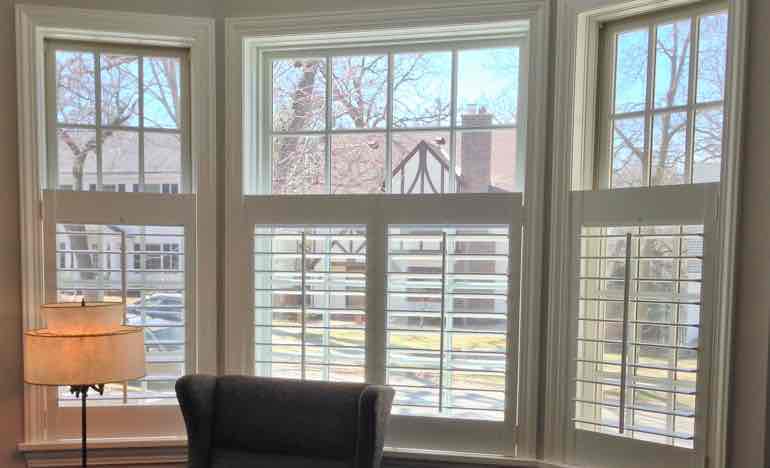 As with cellular shades, plantation shutters offer Fort Myers homeowners the chance to showcase their bay windows' looks while enjoying the benefits of an effective window treatment. Plantation shutters one-up cellular shades however, by granting you even higher levels of light and visibility control due to their adjustable louvers. And since they're custom-made for your windows, you can have even greater freedom in how you complement their style with differing shutter lengths and configurations.
Since bay windows are typically some of the largest windows in your house, Polywood® plantation shutters' energy efficiency is a huge benefit. Polywood shutters can block close to 30 degrees of air flow in your house if used correctly, meaning that a cozy home is a simple tilt away.
For that classic wood plantation shutter look, Sunburst Ovation® shutters outperform all of the competition, being the only 5-star rated wood shutter available. Ovation shutters are the perfect window treatment to complement the wood border around bay windows.
Make Your Bay Windows Beautiful, Fort Myers!
You may be doing your room a disservice if you aren't getting a huge visual impact from your bay windows. Let Sunburst Shutters Fort Myers help your windows reach new heights with our professional expertise. Get in touch with the Sunburst Shutters Fort Myers team today by calling
239-208-6577
to schedule your
free in-home
design
consultation
. We'll work around your timeline and bring window treatment samples straight to your home!