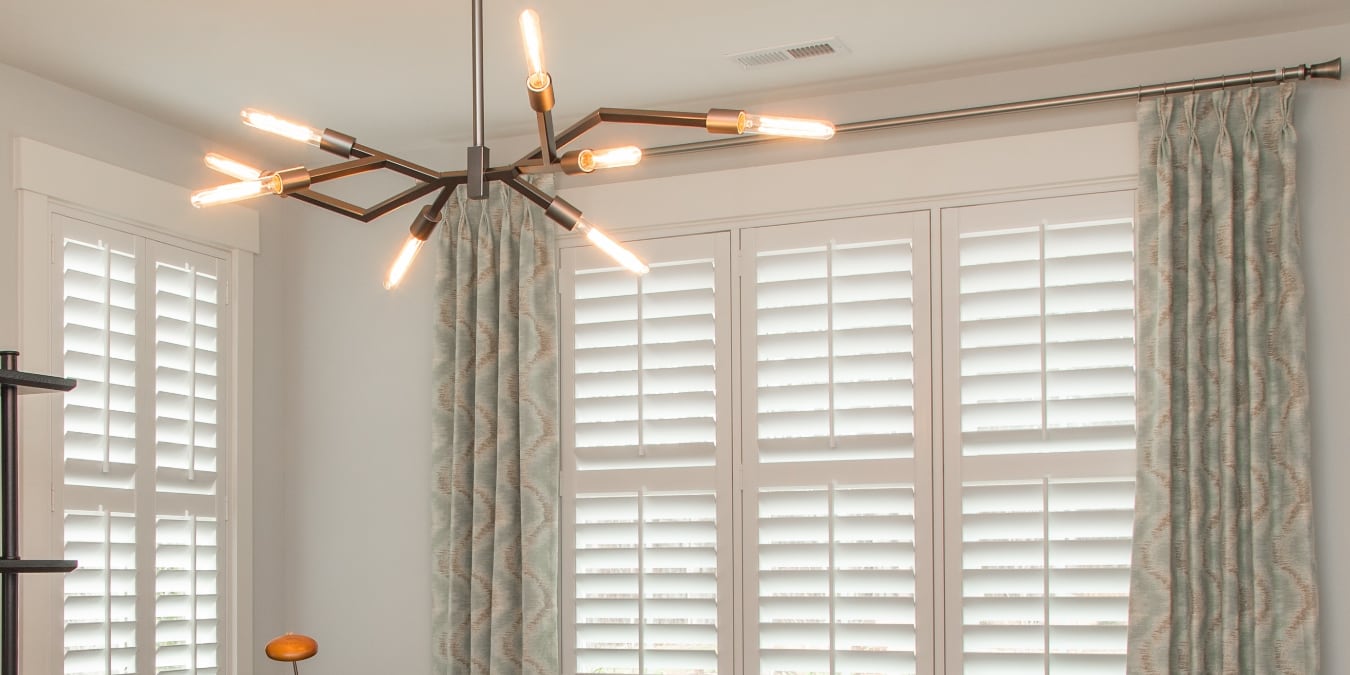 Home Office Window Treatments In Fort Myers That Work For You
If remote work is your new way of life these days, you might need some guidance in upgrading your Fort Myers home office. You can begin with your window treatments. Looking to see a quick comparison of the different home office window treatments?
Click here to view our window treatments chart, for window treatments perfect for your home office.
Products like plantation shutters and motorized window shades are popular home office window treatments for Fort Myers residents who want to keep comfortable and focused while working without compromising your home's unique design. These alternatives are even capable of helping you look your best during video calls! Here's how to employ these window treatments to your advantage.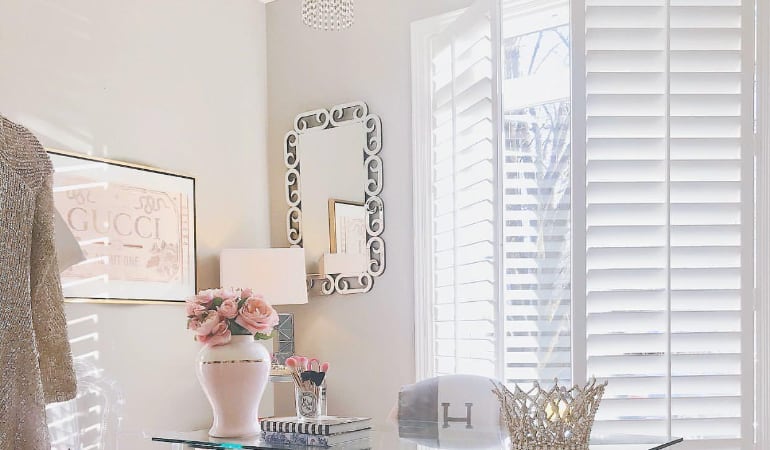 Plantation Shutters: A Leading Option In Home Office Window Treatments In Fort Myers
Working remotely can be challenging, so select home office window treatments in Fort Myers that will make the workday more pleasant. The unique design of plantation shutters makes them a winning option when you want to manage your area's temperature and light levels.
One of the perks of working from home is that you have total control over the temperature. However, you don't want to increase your energy costs by using your furnace or AC all day long. Insulating Polywood shutters can help. On a hot, sunny day, keep your shutters closed to maintain a cooler home office and eliminate the glare on your monitors. During colder months, that same insulation helps reduce drafts.
Looking to lower your electric costs or fed up with sitting in a dim office? Adjust the tilt rod on your Polywood shutters for sunlight that you can redirect from your screen and into other areas that need it. Shut them again to remove potential diversions like delivery trucks or the neighbor's dog. You can keep them closed for privacy after the sun goes down if you end up working late.
If you want a little more appeal in your home office, the fine edges of plantation shutters create a stylish design component that gives a boost to even the most ordinary windows. They come in a variety of adaptable colors as well. Whether you select classic white Polywood shutters or a more rustic looking hardwood shutter, your new home office window treatments will make you happy to be working remotely!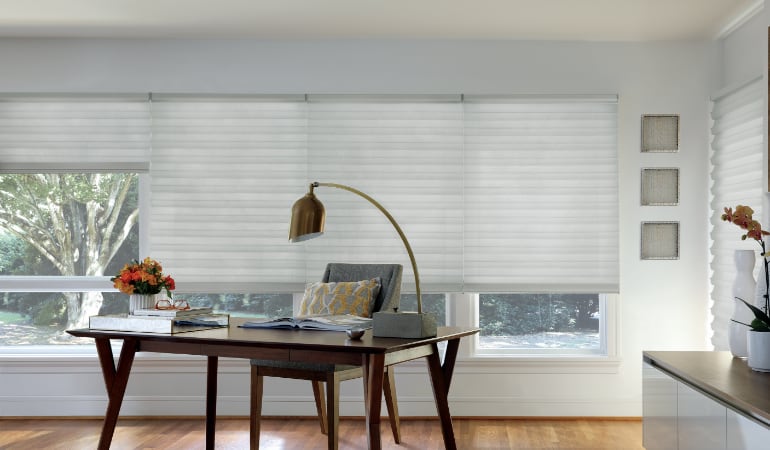 Motorized Window Shades Provide Variety And Convenience for Fort Myers Business People
Similar to interior shutters, many styles of window shades deliver privacy and comfort control for your home office windows. Light-suppressing blackout shades block glare from the sun. Energy-conserving cellular shades protect you from chilly drafts and maintain a room's warmth. Transitional shades give you the option of filtered natural light or total darkness.
Window shades can be found in a multitude of materials and colors to match your unique taste and fulfill your idea of a perfect home office. You may enjoy something stylish like Roman shades that look great behind you during video conferences or a practical product like roller shades to eliminate outside disturbances.
When you figure out the style of window shade you plan to buy, consider the motorized version to upgrade your space even more. Motorized window shades function with a remote controller instead of by hand. This gives you numerous options for adjusting the amount of light in your home office.
If the sun changes position and a glare disturbs your focus, you are able to shut your shades in one simple touch without getting up. If sunlight is impacting your appearance on a remote meeting, or you find your work space looks too dark on your monitor, you can let down or raise up your motorized shades from your desk without getting up. Your manager and co-workers will be jealous of your professional workspace when you improve your home office window treatments in Fort Myers.
Are You Still Contemplating What Window Treatments Is The Best For Your Home Workspace? We've Included This Chart To Help You When Comparing All Of Your Options.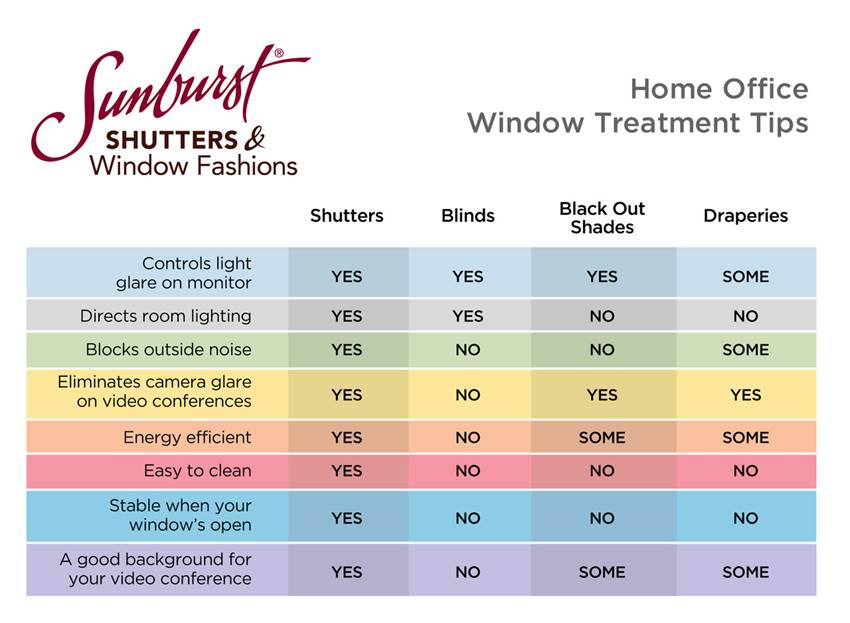 Elevate Your Fort Myers Home Office with Window Treatments From Sunburst Shutters
You will stay focused and productive when your window treatments keep you comfortable and distraction-free. Turn to the window treatment experts at Sunburst to make the right choices for your home office. For a free in-home consultation, dial 239-208-6577 or submit our simple form.