How To Choose A Waterproof Window Treatment in Fort Myers
Anywhere you live, from Fort Myers to the other side of the country, your house shares a need with just about every other house in America: waterproof window treatments. Whatever the layout of your house, the outdoor climate, or the size of your family living in your house, you'll still have the same moisture-heavy rooms: the basement, bathrooms, and the kitchen.
As you may have figured, not every window treatment is created equal as to how capably they handle water and humidity. To make it simpler to understand, we'll break down effective each window treatment is at handling water and find out which products are best for the spaces that encounter the most water.
Level 1: Window Treatments That Don't Stand Up To Moisture
Seasoned Fort Myers homeowners are aware that some materials just won't mix with moisture. Just ask any hardwood floor owner what moisture does to lumber. Solid wood hates water, as it makes wood expand and warp, which may render wood window treatments inoperable. Constant exposure to moisture can also turn the existing hollows of the wood into breeding grounds for bacteria. These facts suggest solid wood window treatments should probably not be chosen for moisture-heavy areas like the bathroom.
Fabric window treatments don't do great with moisture either. Though the harm to fabric won't be as extensive or obvious to the naked eye, prolonged and recurring exposure to water can impair the weave of most fabrics, which can may result in discoloration and fabric thinning.
Level 2: Water-resistant Window Treatments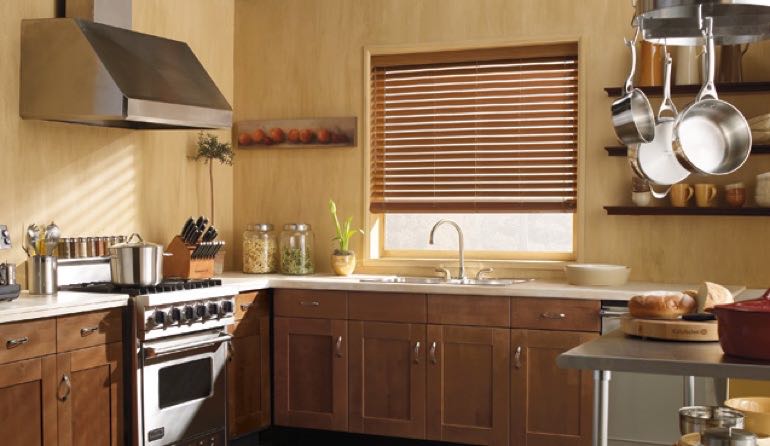 Though not technically waterproof, window treatments here won't be in danger of long term damage when used in humid rooms. This category of window treatments comprises almost every product designated "faux wood," like
faux wood blinds
. Faux wood blinds add the look of a solid wood window treatment, adding top-notch fashion to your bathroom and privacy as well, without the anxiety that may occur whenever it gets too steamy.
Alternative window treatments that can resist most of the impairment from water are metal blinds. Though not offering the same interior fashion appeal and coverage as some other window treatments, aluminum blinds are adaptable. They can be purchased in a wide range of shades, with available cut out possibilities and additional features for privacy, at the same time being perfect for those possible problem rooms. However, blinds that possess cords or fabric bands are not optimal for moisture-rich spaces.
Level 3: Entirely Waterproof Window Treatments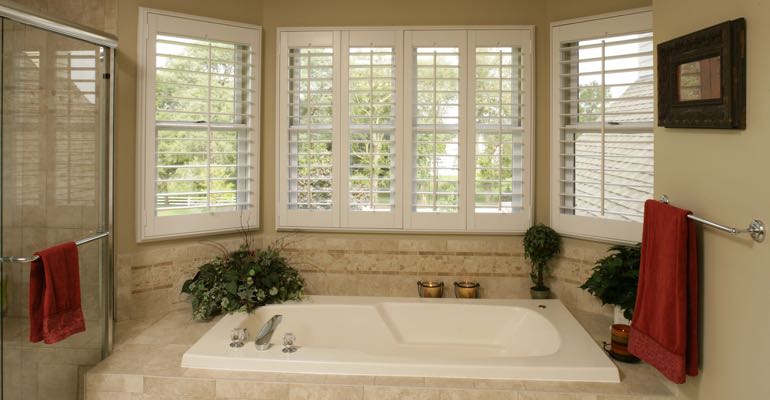 This is what we've been waiting for: the window treatment that completely ignores humidity, dampness, liquid and more like they were nothing. Sunburst Shutters Fort Myers is proud to provide one of the very few completely waterproof window treatments on the market in our
Polywood® plantation shutters
. A fantastic window treatment for the bathroom or laundry room, Polywood shutters are made from a special material that is completely invulnerable to the weakening effects of dampness, whether produced inside your home or from the weather outside.
Not convinced? We can show you the lengths at which Polywood can handle moisture, and we're so sure of its durability that we guarantee every shutter with our Lifetime Limited Warranty. In fact, you could hose Polywood shutters off in your lawn and they'd still function superbly, without any issues.
Make Your Windows Prepared For Anything, Fort Myers
If you live in a rainy or coastal climate, or if you want new window treatments for the bathroom or kitchen, a waterproof window treatment ought to be your top priority. Let Sunburst Shutters Fort Myers help by calling
239-208-6577
to set up your free in-home consultation. And to receive additional suggestions for those rooms and more, dive into our in-depth
Ultimate Room Guide
to find the most effective window treatments for every space in your Fort Myers house!