How To Pick The Best Window Treatment for Sliding Doors in Fort Myers
When shopping for the best window treatments for Fort Myers homes, sliding doors are occasionally neglected. That's unfortunate, since choosing the perfect window treatment for your sliding door could be more important than anywhere else, given how frequently they are used and the potential visual accent they can add to your space.
Sunburst Shutters Fort Myers is set to help you find the best window treatment for your sliding door. Let's start off with the most important considerations to keep in mind for sliding door products, and then dive into specific options that might work in your space.
Sliding Door Window Treatment Priorities
Keep these qualities in mind when searching for your ideal sliding door window treatment:
Durability: Doors tend to be opened and closed more than windows, so choose a treatment that can handle the activity.

Orientation: Sliding doors move horizontally, whereas the majority of windows move vertically. Make sure your window treatment doesn't hinder the usage of the door, keeping in mind how much space is available around the door.

Light & Privacy control: Sliding doors are fairly big relative to most windows, so a product that adds great control over light and privacy is a priority.
Recommended Treatments for Sliding Doors
Polywood Plantation Shutters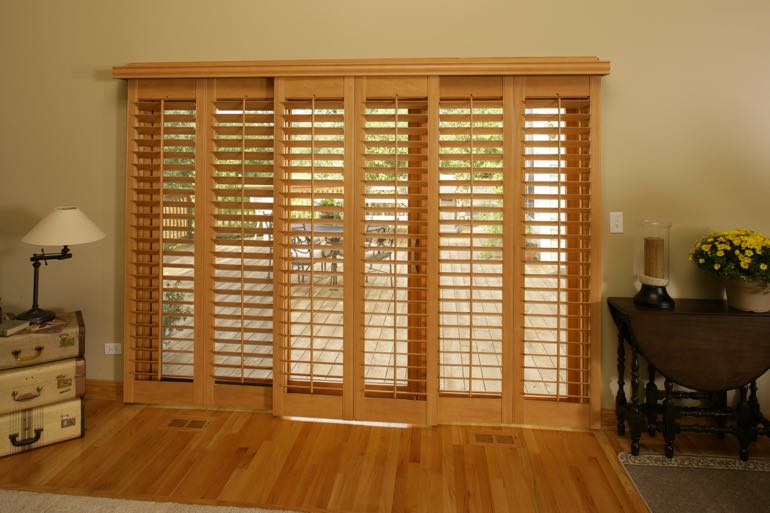 The first product we'll examine is also the one we recommend most highly. Plantation shutters satisfy all three of the requirements for a great sliding door treatment. Sunburst Polywood® plantation shutters in particular are an excellent choice. Polywood will never discolor or fade, so your house keeps that timeless, refined aesthetic. Plantation shutters are also incredibly energy-efficient, granting you the highest level of control of heat and light entering your house.
Perhaps the biggest benefit of shutters when paired with sliding doors is their resilience. Sliding doors will most likely be opened and shut much more than windows, so the ability to stand up to repeated usage is key. Polywood shutters are resistant to breaking, warping, or cracking, so you can be confident that109 no matter how much action your sliding door sees, your shutters will persist for years.
Sliding Door Vertical Blinds
An additional common choice for sliding doors in Fort Myers is vertical blinds. Like their name implies, these blinds hang vertically, suspended from a track above your sliding door. If you have a certain color palette you want to follow, vertical blinds would be the product for you, as they're available in a variety of different shades, materials and textures. You can also customize with a corded, cordless or automated mechanism to make opening and closing them easy.
Don't forget though that there are a couple disadvantages with vertical blinds. They won't block nearly as much light as shutters do, even when the blinds are completely closed. Blinds also have a tendency to sway, meaning less privacy when shut. They are also notorious for breaking as a result of constant use.
Sliding Door Panel Tracks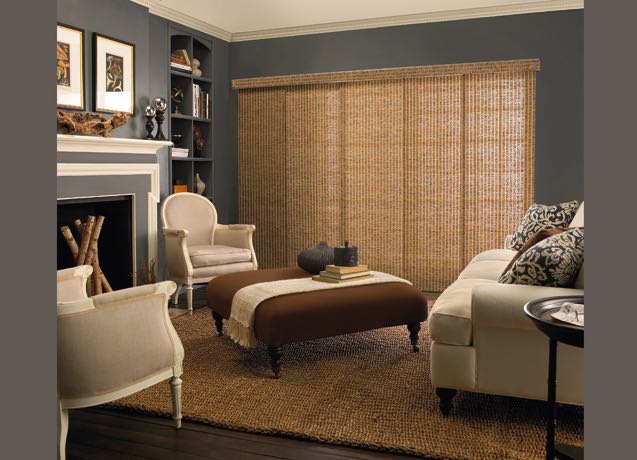 Sliding panel tracks are primarily picked to cover larger windows, which makes your sliding door the perfect spot for a beautiful panel track installation. With their ability to adjust for light and privacy and simple operation, panel tracks are perfect for sliding doors in rooms in which you'll do a lot of entertaining.
Basically, panel tracks are individual wide panels of material that move on a rail—like very wide vertical blinds, though they only open and close, unable to tilt. They can be purchased in a selection of materials, from fabrics to wood to natural fibers and more - so you can find an option that goes with your Fort Myers home's style.
Depending on the size and location of your sliding door, you can pick configurations for a sliding panel track so it can close on one side or in the middle, letting you coordinate function with your fashion.
We're Ready To Find Your Best Fit
Your sliding door could be the most visible window in your Fort Myers home, so we want you to be confident that the product you pick is the right one for you. Check out the
Sunburst Idea Gallery
for some design inspiration, then call Sunburst Shutters Fort Myers today at
239-208-6577
to schedule your free in-home consultation and take the guesswork out of your home design.