Start The New Year With New Shutters For Your Fort Myers Home
January is the perfect time to mount new shutters in your Fort Myers residence. Shutters are an easy way to makeover any room. Not to mention, the right plantation shutters can generate massive energy savings for you and increase your home's value. And when they're installed in January, you can take advantage of all the benefits all year!
But where would you find new shutters that fit your decor and are made from quality materials? Why not use Sunburst Shutters Fort Myers as a resource? Our professionals guide you through the best styles of new window shutters for this new year.
Barn Door Shutters
The newest trend in home decor is installing barn doors as window treatments. The new shutters will wow your visitors with the warm atmosphere they add to the room.
Barn doors glide on top-mounted tracks. Control how much light you let in and view you see by sliding the barn doors across the window. And the best part about sliding barn doors for windows is that they look elegant closed, and they show off the view masterfully when you open them all the way.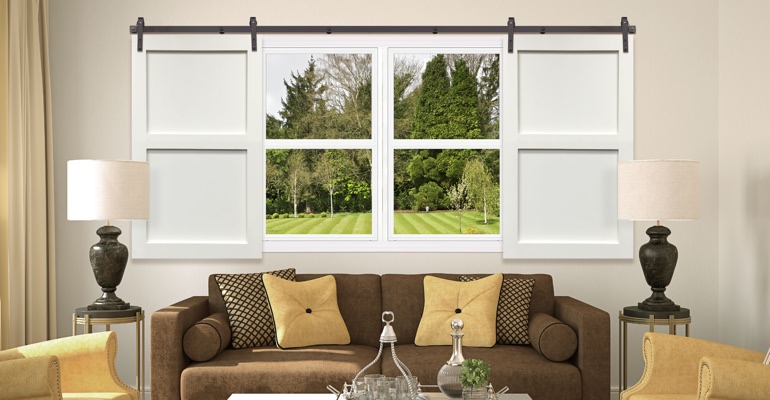 View more pictures of sliding barn door shutters in Fort Myers in this idea gallery.
Polywood Shutters
This year, enhance your windows with new plantation shutters. Polywood® shutters are the most energy efficient plantation shutters money can buy in Fort Myers, FL. They block temperature by 30 degrees and reduce heat transfer by 45%. And when these new shutters are installed in January, you reap the energy savings of new shutters right now!
Polywood shutters are offered in three premium white paints that won't lose their color, no matter how long they're exposed to the Ft Myers sunshine. And you can personalize the color of the shutters with hundreds of hues including yellow, beige, gray, and blue with our custom paint program. Buy the new shutters you want in the colors you want.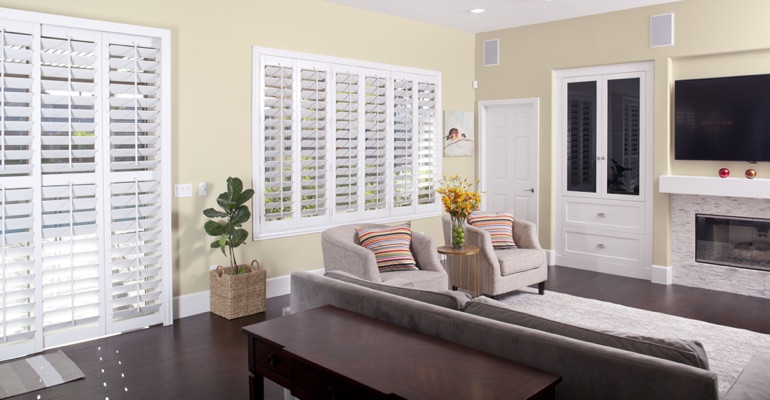 Browse through more pictures of Polywood shutters in Fort Myers in this idea gallery.
Ovation Wood Shutters
Bring the feel of wood to your windows with Ovation® wood shutters. They're crafted from solid hardwood. And they come in 28 different stains to pick fromso your new window shutters go with the space's color scheme.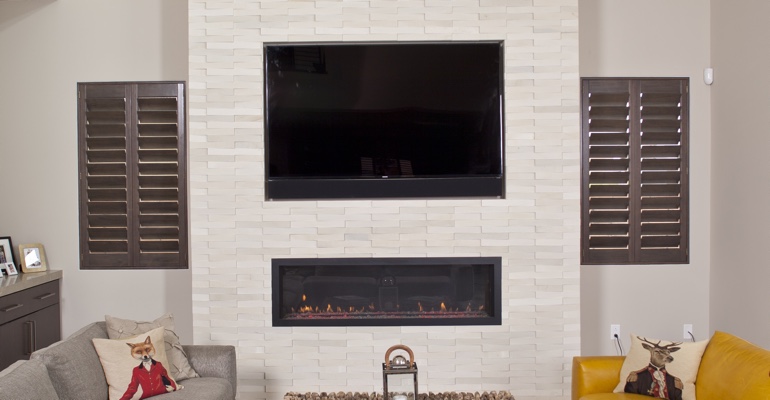 Look through more photos of Ovation wood shutters in Fort Myers in this idea gallery.
How To Buy New Shutters In Fort Myers, FL
It's easy! Give us a ring at 239-208-6577 to schedule your free in-home design consultation. We'll come out to your home in the Fort Myers area. And our experts will walk you through samples of Ovation wood shutters, Polywood shutters, and sliding barn door shutters. We'll also note the dimensions of your windows to custom make your new shutters. Then, we set them up to fit your windows perfectly - and function smoothly.
Begin this new year with new shutters. Call 239-208-6577 today!