The Best Living Room Window Treatments In Fort Myers
Many Fort Myers families use their living rooms for gatherings and celebrations, others for family play and relaxation. Either way, the best window coverings will create an area that is more appealing and comfortable. Smart choices like plantation shutters and shades look stylish while helping eliminate drafts and glare.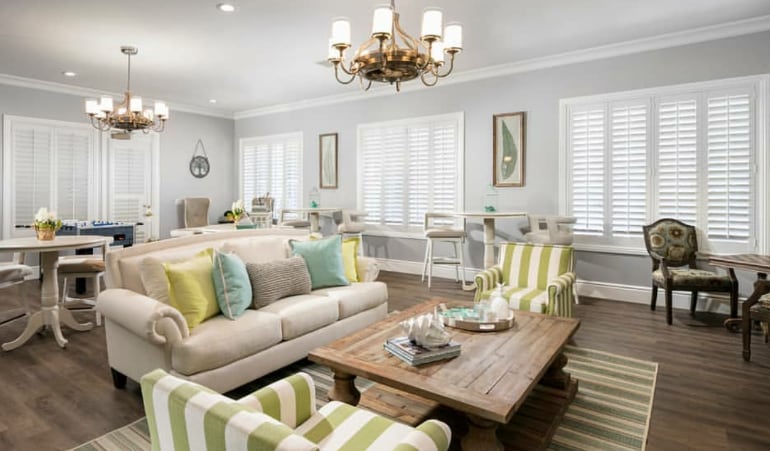 Plantation Shutters Keep Your Space Comfortable
For many Fort Myers residents, the living room serves as a multipurpose room where they host parties, spend time with loved ones, and wind down after work. Versatile plantation shutters are a smart choice for your living room. Composite Polywood® shutters and real wood shutters are a rugged, low-maintenance choice for families with kids and pets but engaging enough to dazzle your friends. The wide louvers look visually stunning and need only a quick wipe to remove dust and fingerprints before visitors arrive.
The easy-to-move louvers also give you control over sunlight in your living room. If you want something less than complete daylight, shut the shutters and tilt the louvers to get the sun's rays away from your guests or off your television. You might want to shut the louvers tight during the hottest part of the day to maintain your preferred comfort levels.
If your home is like others, you have oversized or a large number of windows in the living room. These allow in the or the day and cold drafts. While stunning, they are known for letting in excessive heat and cold drafts. They add beauty but also let in heat and drafts that run up your energy bill and impact the comfort of your room. When looking for the most efficient living room window treatments in Fort Myers, install faux-wood plantation shutters. Polywood® shutters fend off the sun's heat and those cold drafts better than other options to maintain a comfortable space for all of your activities.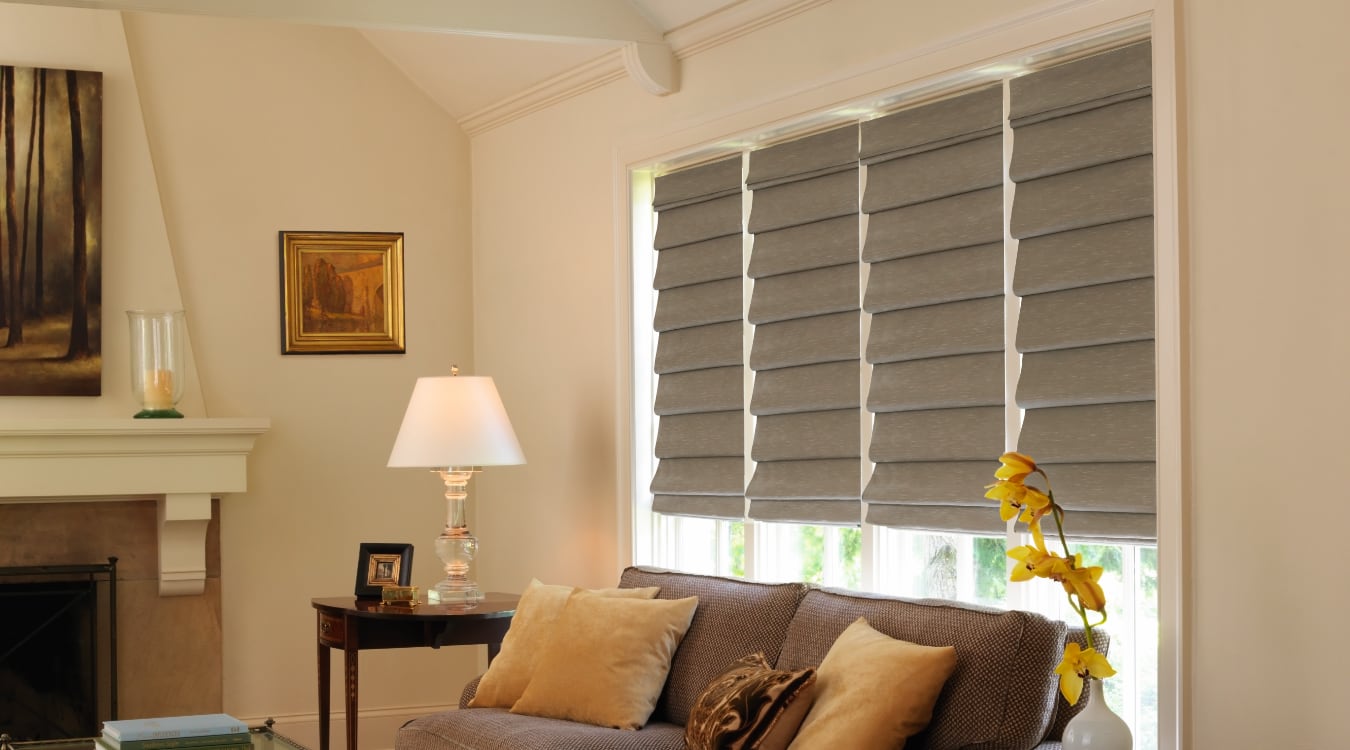 Roman Shades Combine Elegance With Functionality
When integrating with a formal living room, you may want more colorful window treatments . Keep in mind, there's no need to sacrifice function and easy operation. You will enjoy the best of both worlds with distinctive Roman shades.
When opening Roman shades, the material gathers horizontally but without requiring tie backs like drapery. Alternatively, Roman shades open and close with pull-cords or a pull-bar. You can even install motorized shades so you don't have to stop what you're doing to adjust the shades can adjust your shades at the touch of a button. You don't have to step away from a guest to adjust the shade. You can find Roman shades with a multitude of fabric, color, and hardware options to perfectly complement the existing decor of your living room.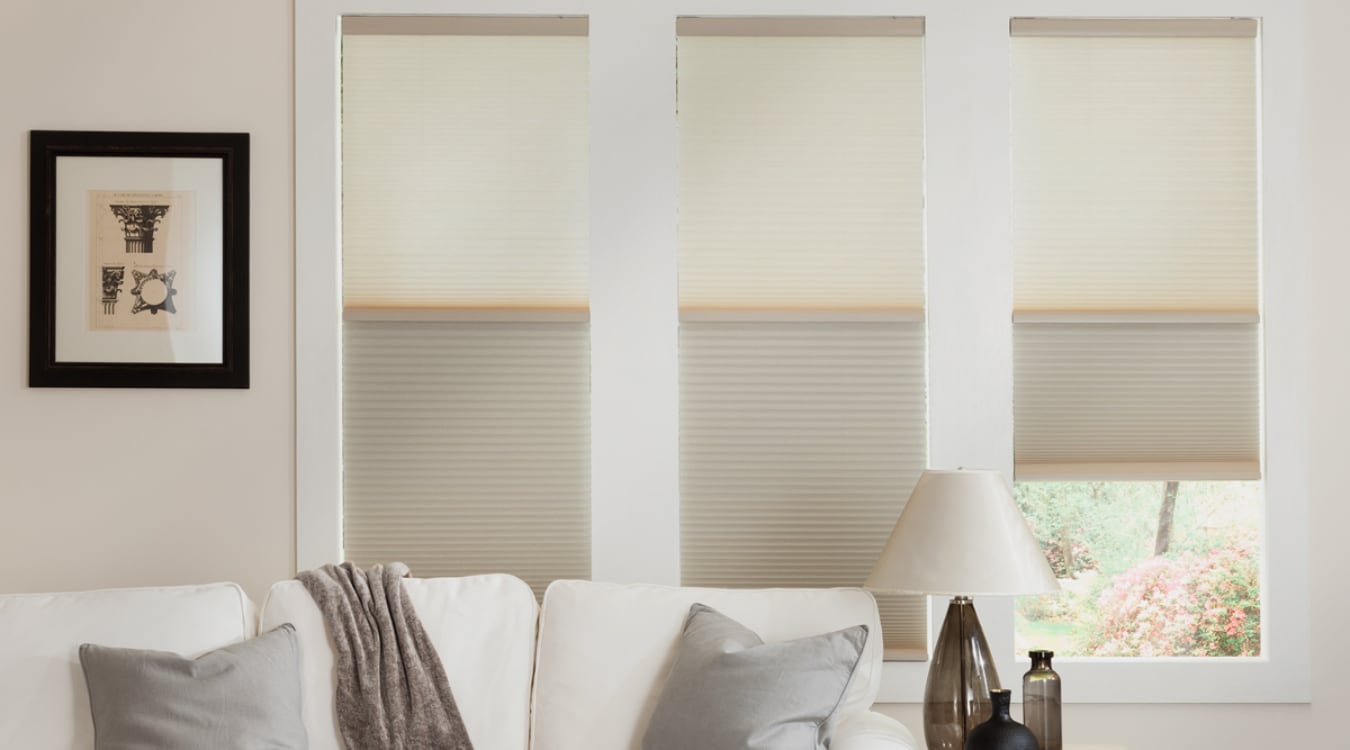 Cellular Shades Lower Energy Costs
Another preferred product for efficient living room window treatments in Fort Myers are cellular shades. The built-in fabric compartments absorb outside air to minimize drafts within your room. This important feature will help you stay warm when you're curled up for a cozy winter's day on the living room couch and keep you cool throughout the warmer seasons when you're socializing with friends.
If you're thinking about buying cellular shades, don't be worried about how they look. They are available in numerous colors, textures, and pleat sizes to fit your interior decorating scheme. Your customization choices continue with opaque or see-through fabrics and all levels in between to accomplish your goals of natural light and privacy. For the most versatility, check out window shades that you can pull down at the top to let light in while remaining closed at the bottom to ensure privacy.
Time to Upgrade With The Top Living Room Window Treatments In Fort Myers? Discuss With The Specialists At Sunburst Shutters Fort Myers
Add comfort, efficiency and style to your Fort Myers living room with finely-crafted window treatments from Sunburst Shutters Fort Myers. Our knowledgeable team will answer your questions and offer a custom plan for your living room. To request a free in-home consultation dialreach out to 239-208-6577 or fill out the form below.