The Top Nursery Window Treatment Ideas In Fort Myers
When you've got a child on the way in Fort Myers, you want to have every detail of your new baby's nursery perfect -- and that includes the window treatments. But in advance of selecting your window covering, remember that versatility and safety are important. Infants are able to pull down drapes or get caught in corded blinds. These options won't block exterior light and drafting for the best sleeping environment either. Instead, use child-friendly, energy-efficient interior shutters or cellular shades as window treatments for your nursery in Fort Myers.
Interior Shutters Make Your Nursery Safe, Cozy, And Stylish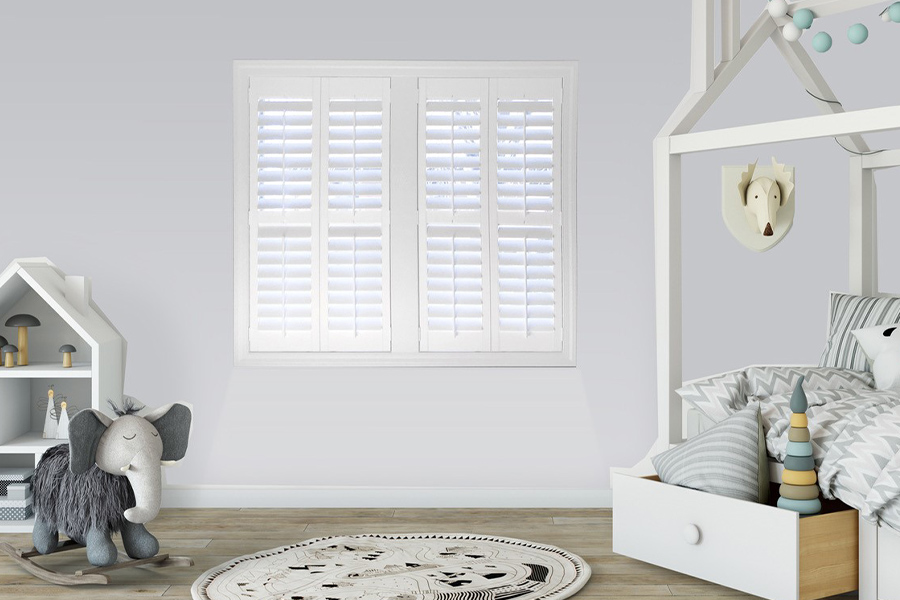 Interior shutters may not be at the top of your list of nursery window treatment ideas in Fort Myers, but they should be! These superior window treatments look amazing in any space. Their solid panels offer an eye-catching complement to the fluffier elements that come with a nursery. You could install
white faux wood Polywood® shutters
in spaces with vibrant or pastel colors. Stained hardwood shutters could be more suitable in the event your nursery features nature-themed pieces or you want to harmonize with the present wood trim. And if you change the design as your loved one grows, your shutters will still coordinate with the area's new feel.
Plantation shutters have a specialized construction that makes them ideal for little ones' spaces. As an alternative to installing curtains or cords for a child to grasp on or become entangled with, plantation shutters feature solid panels with adjustable louvers integrated into a frame around the window. They even clean easily when they get those unavoidable marks from tiny hands.
Shutter slats and panels offer a few different options for adjusting exterior light and privacy in your child's space as well. Pull back the panels for a sunny spot to play or fasten them and turn the louvers out to allow some outside light and shift it toward the spot where your little one plays. Then close the panels and louvers to block almost all sunlight for whenever it's sleepy time.
Closed louvered shutters block cool breezes as well. Air isn't able to get past natural wood and faux wood as it can through cloth window treatments. And our 5-star Ovation® and Polywood shutters employ first-rate manufacturing techniques to greatly reduce gaps where air could slide through. Polywood shutters also feature the best in weather protection that makes them the most energy-efficient nursery window treatments in Fort Myers and makes sure your nursery is always cozy for a pleasant slumber.
Cellular Shades Offer Efficiency and Color To Nursery Windows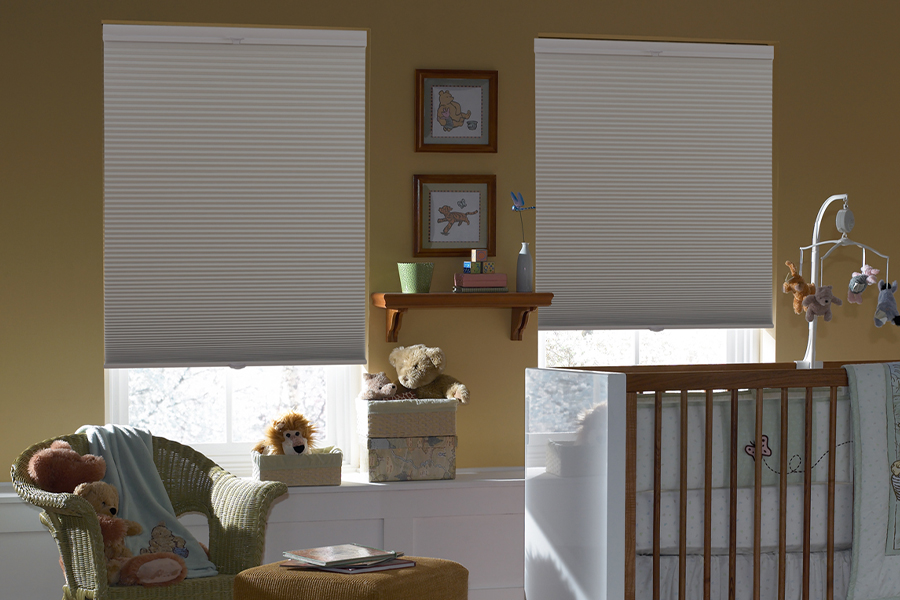 If you prefer a softer texture for your nursery window treatments,
try cellular shades.
These products are available in different materials, colors, and patterns for you to pick from. You'll also come across different types such as top-down/bottom-up shades that offer extra adaptability with sunshine and privacy or cordless shades that your little one isn't able to get ensnared in.
The greatest advantage of cellular shades is their superior efficiency. Their structure creates compact compartments that trap air entering through your windows before it invades the nursery. They aid in keeping the the space at a comfortable temperature and energy costs down.
Looking For Additional Nursery Window Treatment Ideas In Fort Myers? Turn To Sunburst
Regardless of whether you want nursery window treatment ideas in Fort Myers or choices for a separate room of the house, Sunburst Shutters Fort Myers has the answer. We supply a variety of window coverings that make your home more stylish and efficient. Contact us at 239-208-6577 or complete the following form to request a no-cost on-location demonstration and explore incredible window treatments in Fort Myers.