What Are The Leading Window Treatments For Over The Kitchen Sink In Fort Myers?
When you're shopping for window treatments, don't overlook the kitchen -- even if your space only has one window above the sink. If you're worried about splatters of water and food disfiguring a window treatment over the kitchen sink in your Fort Myers home, make the smart choice with durable faux-wood shutters. These products add appeal to every room but are noted for withstanding the moisture and heat of the kitchen.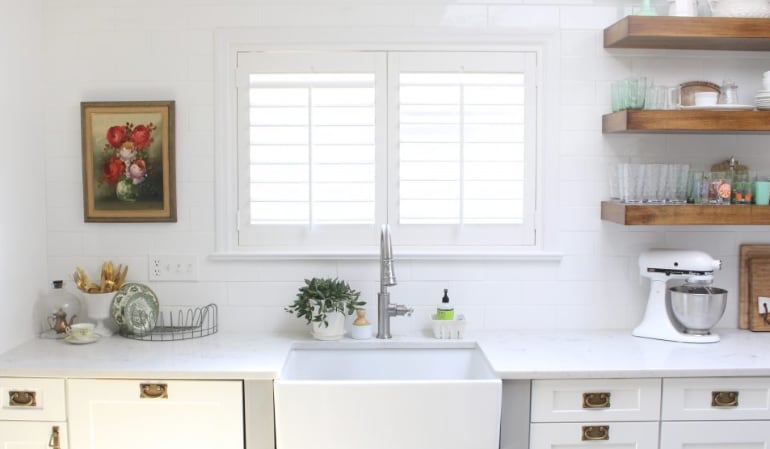 Distinctive Plantation Shutters Elevate Every Fort Myers Kitchen
Window treatments over your kitchen sink in Fort Myers need to be practical and long-lasting. But you don't have to forego beauty when you use distinctive composite shutters.
This sought-after product melds seamlessly with every kitchen design. They come in in several shades of white that harmonize well with finishes, and fixtures, and their strong panels of functional louvers offer a counterpoint to the the flat elements found in your kitchen. Interior shutters add subtle appeal to both high-end and restrained kitchens and every one between.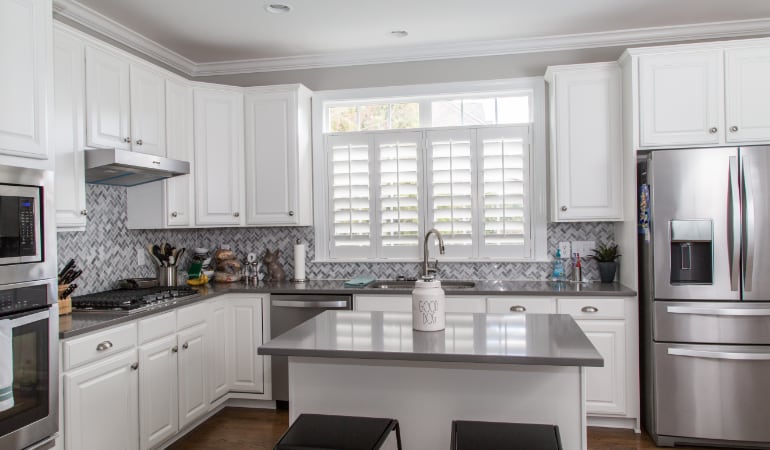 Faux-Wood Shutters Resist Damage From Heat And Water
How often do you see moisture on window panes when you're trying to boil water or wash dishes? That same condensation attaches to window treatments over your Fort Myers kitchen sink, where it can damage traditional cloth curtains or shades after a period of time.
Hang faux wood shutters instead. The faux-wood material and tough outer coat are resistant to moisture and heat. They are totally watertight. They will never warp, chip, or split from high levels of humidity.
Natural sunlight and outdoor conditions won't affect these window treatments. On the window over your sink, these products endure both cold drafts and penetrating UV rays. These exceptional window coverings won't shrink and expand from the cold outside and heat inside, nor will they suffer from fading due to high levels of sunshine.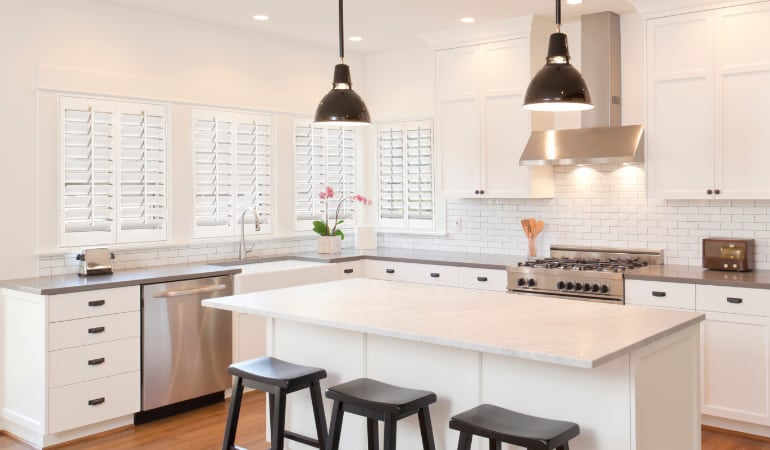 Window Treatments That Give You More Light For Kitchen Work
Lighting is important in your Fort Myers kitchen. You don't want to harm yourself because you're struggling to see what you're doing! Plantation shutters bring in the desired level of natural light and adjust easily. Just swing open the panels or use the tilt rod to move the louvers up and down. There's no need to get frustrated with cords that always get tangled or an inconvenient pull bar that is hard to grab on to when you need to alter the light levels.
If you want full light, open the shutter panels completely. If the sun is blinding, swing the panels back shut and move the tilt bar to your desired light settings. Or use the louvers to redirect glare off of shiny surfaces within your space. If you don't like curious observers seeing into your home after dark, shut the louvers tight for complete seclusion.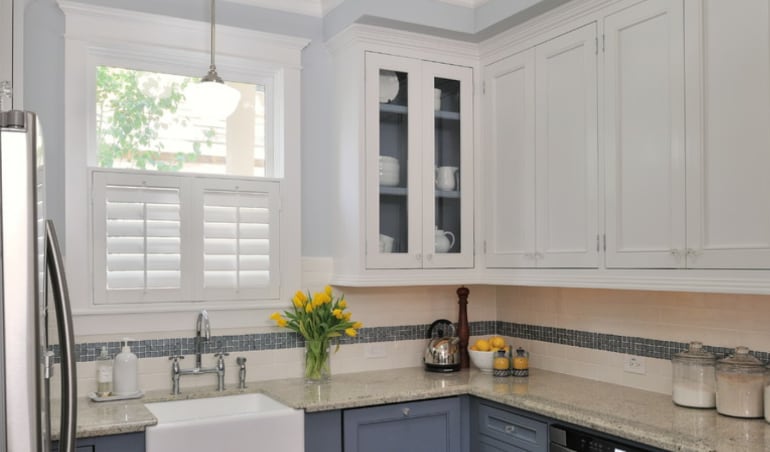 Polywood Faux Wood Shutters Make Cleaning Easy
Kitchens can be dirty with an abundance of sauce splatters, grease, and dirt. The window treatment over your Fort Myers kitchen sink needs to clean up easily. With this in mind Polywood excellent options for kitchens. The sturdy, smooth construction will not trap odors or collect stains like fabric options. They just need a quick dusting or wipe with a damp cloth, and they look good as new.
You'll never have to spend too much time gently reaching your cleaning wipe around the openings as you do with flimsy blinds. The well-made louvers are durable, and you can customize with wider options that provide ample space for you to reach through with your cloth.
Get The Perfect Window Treatments For Over Your Kitchen Sink In Fort Myers At Sunburst Shutters Fort Myers
Sunburst Shutters Fort Myers provides the perfect solution for any window -- even the one above your sink. Confer with our specialists about what you envision for your windows, and we'll be glad to help upgrade your kitchen. Call us today at 239-208-6577 or complete our online form to get started.